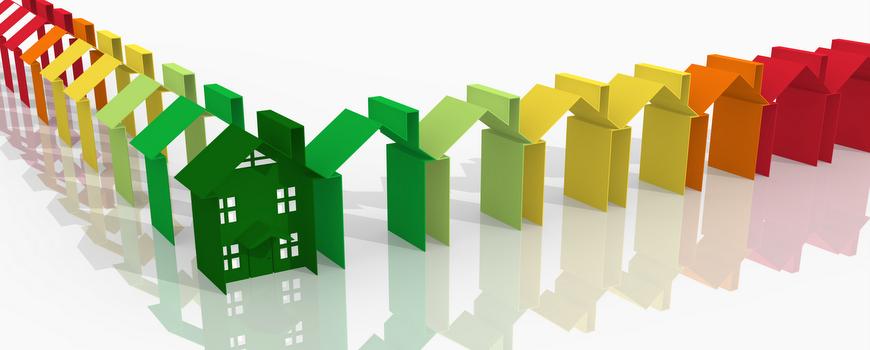 The EU Directive on the Energy Performance of Buildings (EPBD) contains a range of provisions aimed at improving the energy performance of residential and non-residential buildings, both new-build and existing.

The EPBD obliges specific information and advice on energy performance to be provided to building purchasers, tenants and users. This information is provided in the form of a Building Energy Rating (BER) certificate, which is effectively an energy label that describes the energy performance of the building. A BER is necessary at the point of sale or rent of a building. The Sustainable Energy Authority of Ireland (SEAI) is the competent authority charged with managing the BER scheme in Ireland.

BER assessment processes
While there are significant differences between BER assessment processes for residential and non-residential buildings, the basic approach is the same. All BER ratings are based on three fundamental properties of a building:
Building dimensions / geometry – including size, orientation, percentage of different building fabrics (e.g. glass, concrete, wood), purpose of different building areas, air tightness.


The building fabric – the thermal properties of the various element of the building.


The building services – including the efficiency of the space heating, ventilation, air conditioning, hot water systems, lighting, and the controls that are in place to regulate their operation.


The combination and interaction of these three fundamental properties determines the energy performance of a building.


Improving a BER
There is often an emphasis on improving the performance of the building services, such as the efficiency of a boiler, or a desire to install a renewable energy system in order to improve the energy efficiency of a building and thus its BER. While such efficiency improvements can improve the rating, if the building fabric is not in compliance with the building regulations (at a minimum), the benefits of what can often be costly improvements may not be fully reflected in the rating or in the energy bill. This is especially true in the residential sector, e.g. simple improvements in the level of attic insulation can be significantly more cost effective than installing solar panels.

While having a BER certificate is a legal requirement when leasing or selling a building, the value of undertaking an assessment goes beyond legal compliance. Not only does an assessment identify the energy rating of a building, but it also provides a breakdown of the main energy consumers and a quantified list of recommendations on how to reduce energy consumption and CO2 emissions. It can also be used to check a building's conformance with the building regulations. Therefore, legal requirement aside, getting a BER is an integral step in gaining an understanding of the energy performance of a building and forms the basis upon which future energy reduction measures can be planned.