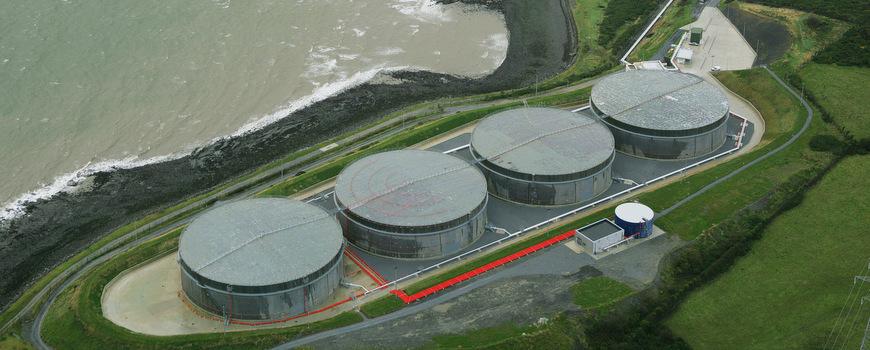 The National Oil Reserves Agency (NORA) is the Irish agency responsible for holding national strategic stocks of petroleum products. To fulfil this mandate, NORA has refurbished a number of former, large-scale heavy fuel oil (HFO) storage facilities which it has leased from power generators in Ireland. One such facility is at Tarbert, Co. Kerry, and NORA appointed Byrne Ó Cléirigh to act as client engineers and project managers on the refurbishment of this facility into a strategic storage site for petroleum products.

Byrne Ó Cléirigh advised NORA on the development of the tank farm to optimise the storage of different petroleum products, and we managed the whole of the refurbishment project on behalf of NORA. The services provided on the project included:
Development of the strategy for optimising the storage and movement of product into and out of the facility.


Preparation of capital cost estimates for refurbishing the facility.


Detailed specification of all the refurbishment works including tank cleaning, tank inspection, demolition work, civil & structural works (in association with our partners PUNCH Consulting Engineers), tank refurbishment works, tank gauging, mechanical & electrical works, fire fighting and painting works.


Procurement of all permits and licences for the refurbished facility, including planning permission, fire safety certificates, sign-off by the Health & Safety Authority on the Safety Report prepared by Byrne Ó Cléirigh under the COMAH Regulations, jetty licences, foreshore lease and external emergency plan.


Management of the tendering processes for the main works contracts, cost control and contract management.


Monitoring of the site works, commissioning, acceptance testing and handover to NORA.


The refurbished storage terminal provides NORA with 120,000 tonnes of diesel storage and 30,000 tonnes of kerosene storage, with an upgraded oil jetty, new ship unloading and product transfer pipelines, upgraded containment bund, double-floor tanks, tank gauging and overfill protection, new truck loading facility and new fire-fighting facilities, all to current best practice.